AI Potential & Digital Business Models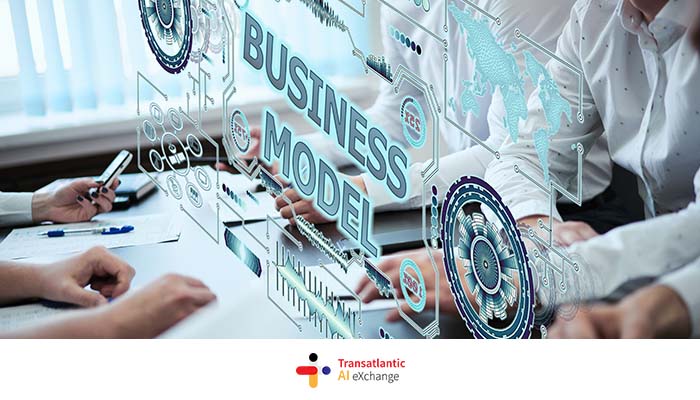 The LeadershipGarage and the Transatlantic AI eXchange (TAIX) are focusing on Data & AI in an online workshop for leaders interested in learning more about how data and AI will drive our future and shape leadership.
7:00-8:30am PT / 16:00-17:30 CET Prof. Sabine Remdisch & Cody Long  (LeardershipGarage)
8:30-8:45am PT / 17:30-17:45 CET CoffeeBreak
8:45-9:00am PT / 17:45-18:00 CET Knowledge Circuit Introductions
9:00-10:30am PT / 18:00-19:30 CET Knowledge Circuit
10:30-11:00am PT / 19:30-20:00 CET Opinion Round and Wrap up
7:00-7:10am PT / 16:00-16:10 CET LeadershipGarage Intro
7:10-7:55am PT / 16:10–16:55 CET Gregory LaBlanc (Berkeley)
7:55-8:10am PT / 16:55–17:10 CET Coffee Break
8:10-8:45am PT / 17:10–17:45 CET Prof. Sabine Remdisch & Cody Long / Break out
8:45-9:30am PT / 17:45–18:30 CET Zod B. Mehr (Kreatize)
9:30-9:45am PT / 18:30-18:45 CET Coffee Break
9:45-10:30am PT / 18:45–19:30 CET Thomas Neubert (Intel/TAIX)
10:30-11:00am PT / 19:30–20:00 CET Wrap Up
Transatlantic AI eXchange Partners
Legal Disclaimer:
By taking part in this event you grant the event organizers and partners full rights to use the images resulting from the photography/video filming, and any reproductions or adaptations of the images for fundraising, publicity or other purposes to help achieve the association's aims. This might include (but is not limited to), the right to use them in their printed and online publicity, social media, press releases and funding applications. Please contact us (info@transatlanticaiexchange.com) with any questions.